3 Areas of Focus for Large Organisations Scaling Agile
The majority of large organisations have begun to implement some form of scaled agile. As adoption of this new way of working begins to take hold, organisations often begin to struggle to make sense of what's going on. Projects might be executing with reasonable success on the ground, but it remains challenging to roll this up to enable programme/portfolio management and planning.
In this blog we take a look at three areas of focus that help address this challenge.
Implementing due dates or key milestones across your agile delivery
It's common to find organisations confused about whether they should be using "due dates" or "milestones" across agile initiatives. While it is critical to enable teams to retain the ability to freely prioritise and rescope work - that doesn't need to be the same thing as avoiding milestones or due dates entirely.
Regardless of delivery methodology, every organisation still needs to be able to plan. Only then can you effectively assign resources, plan communications to customers, staff and regulators; organise release slots, forecast finances and make investment decisions.
We cover this entire concept in more detail in a dedicated blog post that you can find here. A key takeaway from that blog is the diagram below, which describes an indicative hierarchy/taxonomy (i.e. work breakdown structure) you can encourage across your teams.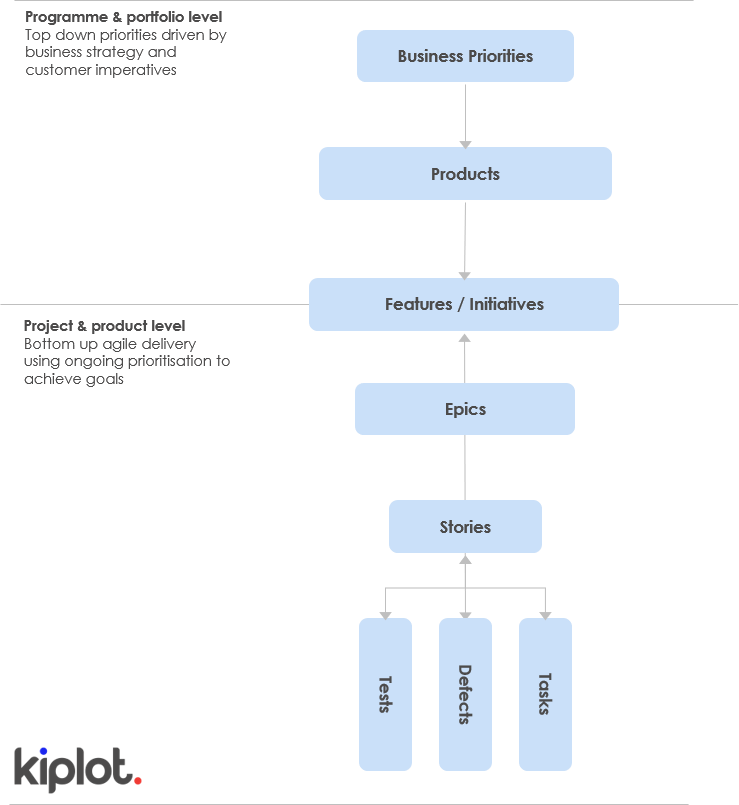 Establish a 'common currency' across your change portfolio
Common currency is the expression we use to describe normalisation of activities across different initiatives. It's a necessary way to compare "apples with pears". This definitely doesn't mean that you manage them the same way. But it means you can manage across your portfolio, ensuring you avoid siloed, local planning processes.
Siloed local planning process result in change conflict, inefficient resource utilisation and duplicative work. The result is that initiatives take longer, and cost more money.
The diagram below shows a simple example of hierarchy (i.e. work breakdown structure) normalisation. Note that we don't recommend organisations achieve common currency across one hundred percent of their portfolio. But at least strive for coverage across their largest initiatives.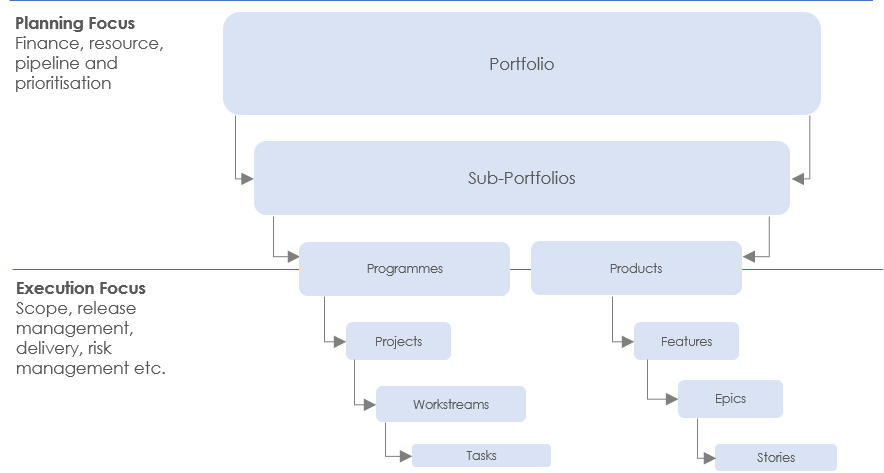 Reassess your resource planning models
When it comes to resource planning, the old processes and frameworks no longer work.
Most large organisations are still operating processes based on a world where there were a comparatively small group of technology-focused resources. These resources were sparingly spread across the projects that needed them.
In the new world, "project resource" is increasingly made up of non-fungible skills. Whereas business analysts and project managers remain cross functional, iOS engineers can't be deployed to work on Android. And an expert in your customer database is unlikely to be much use improving the speed of transactions through your payments systems.
When we think about "run" and "change" in the context of a muddled world of agile, DevOps and waterfall, it requires more sophisticated resource scenario modelling to ensure that your critical resources, are always working on the highest priority initiatives.
For most organisations, ensuring that the very best software engineers are being used to the greatest effect, will be the difference between dominance, and the slow decline to irrelevance.